Post by rogergreen on Nov 24, 2011 22:08:48 GMT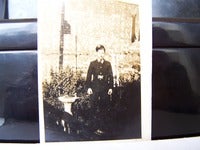 I started my employment as a boy messenger (Official name,Telegram boy to every one else) in 1942 with the princely wage of 12 shillings and sixpence per week (65p) that was for six days and a Sunday duty every 4 weeks, my number was one. We were the perveyers of good , medium, and bad news, on many occasions when entering a street and passing ladies having a chat they would remark to me as I cycled passed "Thank god you have gone by".that as you have already mentioned was in case I had the "Goverment Priority Telegram"carrying the bad news of "killed in action" etc:
When it came to tips Woolworths always gave sixpence,a local bookmaker sixpence, a fishmonger three pence, as in this case it informed them when the fish would arrive at the railway station. the cinemas always signed the envelope for which you showed at the box office for free admission. and of course this was the time 0f the American invasion very good with tips, who could forget the "Greetings Telegrams" especially at weddings.whereby to her delight,you were often requested to take them to the bride at the top table,and on departure not only a tip but a good measure of whisky, and a wobbly ride back to the office
I have delivered telegrams to Bing Crosby,Glen Miller etc:and speaking of the latter I have watched and listened to as he rehearsed the band on many occasion as i am sure you are aware it was the finest band in the country ,and so it should have been because he had the pick of all the best instrumentalists from the big bands in America.
On one occasion an American serviceman who was approaching in the opposite direction and pushing his girl friends bycycle which had a flat tyre , he hailed me"heh mate "(because on the way over they had been schooled buddy was not the term used) I'll give you ten shillings if I borrow your bycycle and you push this back to the house I will leave it outside for you to pick up, after enquiring where the house was I thought it quite a profitable bargain, nearly a weeks wages for fifteen minutes.
On annother occasion a lady waved me down in a frantic manner and asked if I could take a telegram, yes I replied getting pad and pencil at the ready,it was to a seargents military address and the message dictated to me was thus."Don't come down this week end my husband is coming home" that lead to a healthy tip.
During this time I bought a rear view mirror for my own bycycle and fitted it so that when I went out on my next round I would try it out.Now I was so engaged as to what was going on behind me I was completely oblivious as to what was in front,which happened to be a parked army pick up truck who's driver was having a nap when I hurtled into the back of it,this made him jump so much so that his head hit the cab roof,and to his amazement on turning round seeing a telegram boy draped over the tail gate hat rolling around inside the back and gasping an apology because he was winded on hitting the tail gate'
I passed from a telagram boy to Post Office Engineer and retired as a B.T engineer on emergency duties and maintaining Eltronic and strouger exchanges.
On one occasion whilst cycling back to the office a squadron of American Cobra's passed overhead when two of them collided and hurtled downwards. I turned round and cycled to where they came down and from the advantage point of railway footbridge over a miner line I observed that one had crashed onto a factory roof the other onto a Prefab there were no civilian casualties ,but both pilots were killed in the crash.
This other recollection also involves an aircraft. This time I had moved on to become a Youth-In-Training as a Post Office Engineer attached to an overhead /cable laying gang, we were laying a cable at Cranfield Airfield on the runway perimeter where a Mosquito aircraft was "Trimming Up" the airfield on one engine,and these aircraft were capable of going as fast on one engine as two, it had made several passes when on the last pass that engine failed and it crashed into several parked aircraft by the side of the runway which sent debris and wheels flying through the air in all directions. Both crew were Killed I think they were Australians.
With Regards Alan.S."Joe" Felts.-